The HCI group at Bauhaus-Universität Weimar (BUW) is led by Professor Dr.-Ing. Eva Hornecker.
https://www.uni-weimar.de/de/medien/professuren/human-computer-interaction/
The group works across technology, social sciences, and design. Our research is driven by the core topic of Tangible and Embodied Interaction (TEI), which we address from these angles. At BUW, we belong to the department of Computer Science, teaching in our MediaInformatics program and the HCI Master program. We have strong ties to the Arts and Design faculty, not only through Prof. Hornecker's secondary affiliation, but even more so through frequent collaborations in teaching and research.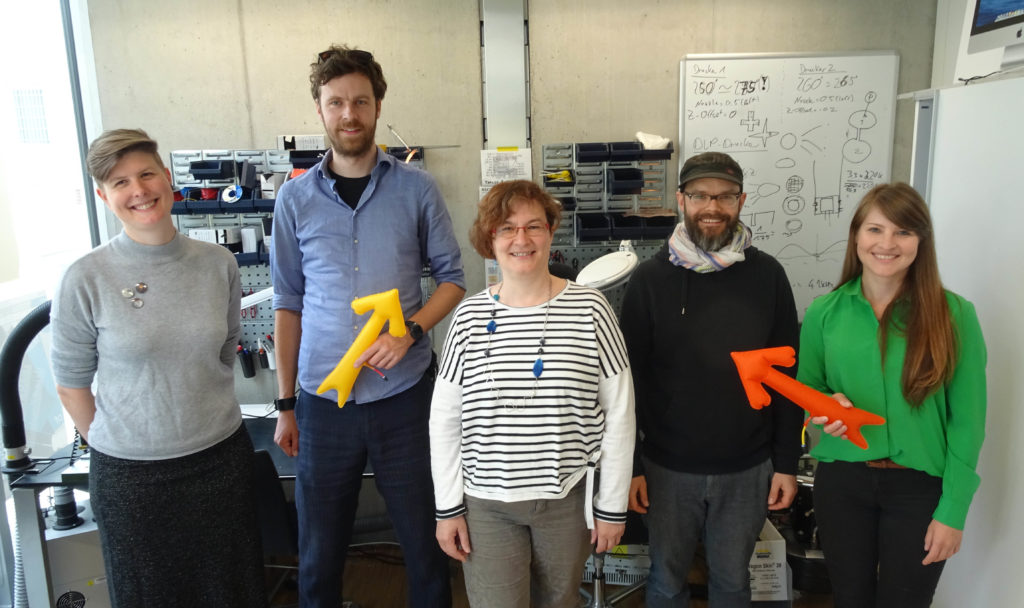 In the TEI tradition, we are enthusiastic about creating 'physical computing' objects – we focus on computational artefacts (or interactive spaces) that are physical, inhabit the same space as users, and require physical interaction. This is complemented by user study research that investigates people's experience with technology and their embedding in social contexts. Given Bauhaus-Universität's focus on project-based teaching, a lot of our research happens in the context of such projects, which often involve students from other faculties.
In our technical and development work, which tends to be design-led and includes material exploration, we utilize electronics, e-textile and other new materials, and digital fabrication methods. We deploy quantitative and qualitative user study work, but have an emphasis on qualitative research methods, such as interviews, observations, video analysis, ethnographic-style participant observation, and field studies.
Ongoing research has a focus on technology in performance and installation art, investigating how to integrate interactive costumes for stage-based performances in the theatre context (Michaela Honauer's Dissertation project). We also participated in interdisciplinary performance projects and did media installation work (including a project for Kunstfest Weimar 2016). We further investigate new possibilities for shape-change and user input with inflatable (i.e. pneumatically actuated) interfaces (Kristian Gohlke's Dissertation project) and do research on Data Physicalization (physical artefacts whose geometry or material properties encode data). Other topics of work include Media Architecture, interactive museum installations and visitor research, and Mixed Reality learning environments. Recently, we started a new project funded by VolkswagenStiftung, which has us dive deep into a completely new domain, that of elderly care. ReThiCare (Rethinking Care Robots) explores the design space for intelligent assistive technology in care homes, identifying alternatives to the prevalent imagery of anthromorphic butler robots. In this project, we collaborate with product designers from BUW, sociologists from TU Chemnitz, and Roboticists in Denmark.
Weimar and BUW have been ideal for this kind of interdisciplinary cross-over and collaboration, where the Arts help us to think differently about topics and provide us inspiration. Design supports us in thinking out of the box, to re-define problems or to approach them in a more playful way, as well as bringing essential skills for creating physical objects and working with materials.
We may not be a large group, but we hugely enjoy working together, sharing in-depth discussions, having fun, tinkering about, generating ideas and seeing them come to life, and doing work that we believe is unique.